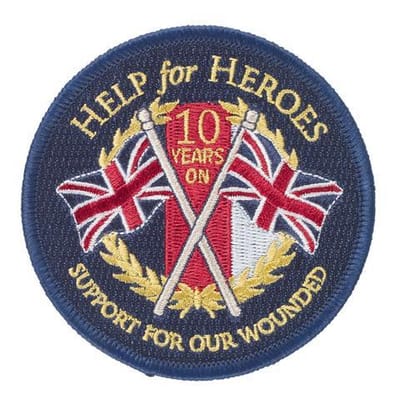 Now in his 10th year of fundraising for Help for Heroes, and for the last 2 years ably working together with his partner Jilly, Phil has raised more than £110,000 for the Charity, a prodigious sum by any standards! Phil is a 61 year old army veteran who commenced this herculean task in 2010, by organising a clay pigeon shoot at Spennymoor and District Shooting Club near Durham which, due in no small part to the generosity of its members and guests, was an outstanding success and has subsequently become an annual event.

Originally, in 2010, Phil set himself a target of £50,000 which he proudly achieved with the generous help of various sponsors in 2015. Following on from that, he then set a new target of £100,000. In January 2018 the fund had achieved just over £80,000 and, in an attempt to achieve his ultimate target of £100,000, the "Garrison Gallop" was born! This was set up as a "run" of 268 mile between H4H Chavasse VC House in Colchester to H4H Phoenix House Catterick, starting on 13th August and finishing on 30th August. However, during the early stages of the Challenge, Phil incurred a fracture to a shin bone and was medically advised to retire from the event. Phil being Phil, simply taped up his leg and carried on walking, not running, the remaining 230 miles. Despite the slight set back, Phil arrived on time to a tumultuous welcome and raised over £5000 for Help for Heroes. Generous collections in local supermarkets just before Christmas raised a further £600 for the cause for that year. In 2019 Phil was honoured by Spennymoor Town Council for "Services to the Township and Community of Spennymoor" for his continuing fundraising efforts.

With Jilly now on board, the couple carried on collecting and running raffles/auctions and then Phil announced he was to embark on Garrison Gallop 2. Jilly became 1 of 2 support drivers for the Gallop, a 150 mile walk from H4H Recovery Centre in Plymouth to H4H Recovery Centre in Tidworth, Wiltshire starting on 13th May 2019. At an average walk of 13-15 miles per day, Phil arrived at his destination on 23rd May 2019, once again to a terrific welcome from H4H staff, volunteers, friends and supporters. Along with the ever-popular clay pigeon shoot for 2018 and a final supermarket collection, the £100,000 target was reached.

Phil and Jilly, now a formidable team, continue to raise funds for this Charity, that is so close to their hearts. Although taking a step back from the more physical of challenges this year, the pace has by no means slowed down. With the inaugural Hero Ball now being planned for Saturday 4th July 2020 at Redworth Hall Hotel and the continuing collections/raffles/auctions and the 2020 clay pigeon shoot confirmed for Sunday 11th October 2020, they hope to present yet another cheque to the Charity in December, that will run into the tens of thousands.

"We REALLY thank you for taking the time to look at our website, read a little about us and thank you all for your continued support. We shall look forward to welcoming you personally to The Hero Ball, to celebrate the work of a fantastic charity while having a fantastic time!"